New children's book "Little Melvin… The Pig That Could Eat the World" by David Nern is released, a delightful story about a piglet whose appetite takes him on an unexpected journey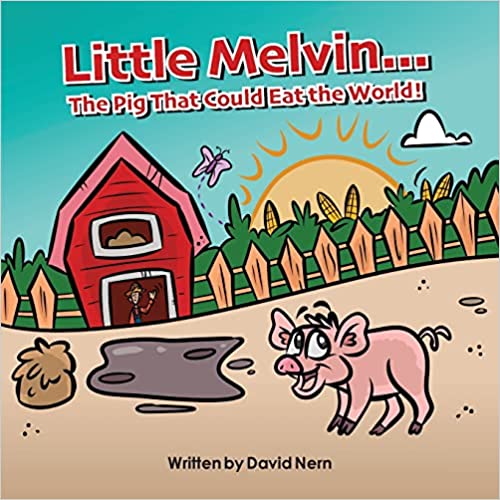 "Little Melvin… The Pig That Could Eat the World" by David Nern has been released worldwide. This charming, 42-page children's book follows Melvin, an average pig with an above average love for food. He enjoys every morsel the farmer brings, and still wants more! He soon outgrows his brothers and sisters, and breaks out of the pigpen to find more to eat.
After gobbling up everything in sight – and continuing to grow larger and larger – Melvin floats off into space in search of another world and all the tasty food he might find there.
With adorable illustrations and a lovable, insatiable main character, the author provides young readers with a quirky, entertaining tale that goes to unexpected places. Inspired by a childhood fascination with pigs on his grandmother's farm, Nern uses Melvin's adventures to remind people of all ages that it's okay to go after what they want, to outgrow their "pen," and to seek new frontiers!
Melvin may start his journey as an average pig with a simple life, but his hunger for more leads him to something extraordinary.
Little Melvin… The Pig That Could Eat the World (ISBN: 9781960142764) can be purchased through retailers worldwide, including Barnes and Noble and Amazon. The paperback retails for $12.99. Wholesale orders are available through Ingram. Review copies and interviews are available upon request.
From the back cover:
Melvin the pig loves spending every day on his wonderful farm with plenty of sticky mud holes for playing and napping with his brothers and sisters.
But Melvin's simple, everyday world is about to change forever.
Melvin's deep love for his farmer's delicious food takes over, and his need for more food leads him to a place he could never have imagined!
You might say that Melvin's new adventure is truly "out of this world!"
About the author:
This is Dave Nern's first children's picture book, produced 40 years following his college creative writing courses. He likes to say that his long sales career got in the way of his creative writing pursuits! David once promised his two young children that he would someday write a book about a pig who at the world. It has finally come to fruition. David lives in Castle Rock, Colorado with his wife, Liza, of 44 years. His favorite pursuits are golfing, fishing and hiking in the majestic surroundings of the Colorado Mountains.
About MindStir Media:
MindStir Media LLC is an award-winning book publisher. To learn more about publishing a book with MindStir Media, visit http://mindstirmedia.com or call 800-767-0531.
Media Contact
Company Name: MindStir Media LLC
Contact Person: Jen McNabney
Email: Send Email
Phone: 800-767-0531
Address:1 New Hampshire Ave Suite 125
City: Portsmouth
State: NH
Country: United States
Website: https://mindstirmedia.com/