Sokos Beauty Announces the Launch of Its Skin Care Products
Sokos Beauty is a popular online store famous for providing outstanding care and delight to its consumers.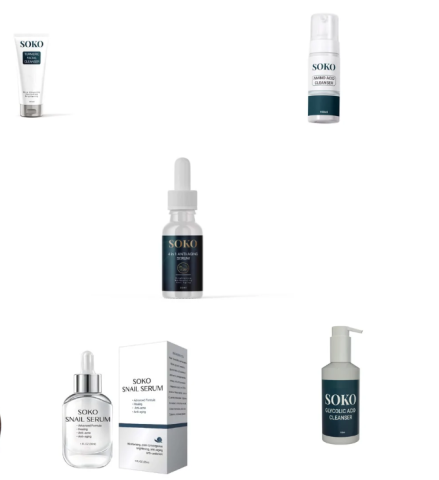 Soko's Beauty is incredibly delighted to announce the debut of its skincare collection, which caters to customers of all ages and addresses various skin conditions. Snail serums, anti-aging creams, and eye creams are part of their product lineup.
Acne, hyperpigmentation, dull skin, enlarged pores, wrinkles, and rough skin are a few of the issues that are addressed by utilizing their products, which have been precisely formulated for this purpose.
Speaking to the media, the company's owner said, "We're so confident that we offer some of the most innovative products in the world. That is why all our products come with our risk-free 30-day guarantee. You may contact us anytime if you are unhappy with our products, and we will do everything possible to fix it. We want you to know there are no risks in purchasing any of our products."
Sokos Beauty offers a wide range of other beauty products, including: Cleansers Moisturizers Serums, Skin Care Sets, Skin Care Treatments, Toners, Anti-acne, Anti-aging , and Eye Treatments.
Some of their most famous skin care products include :
Advanced Formula Snail Serum –
Advanced Formula Snail Serum utilizes the miraculous curative powers of snail secretions to repair and hydrate your skin. The potent components that can be found in snail serum, such as hyaluronic acid, glycoprotein enzymes, antimicrobial and copper peptides, and proteoglycans, help to stimulate the production of collagen, assist in the reduction of fine lines and wrinkles, and assist in the treatment of acne, all of which contribute to the appearance of healthy, glowing skin.
Insufficiently nourished eyes can be rescued with the help of this Retinol Luxury Eye Cream. It works to hydrate the surface of the skin right around the eyes, giving the appearance of a better complexion. The eye cream helps restore the natural color of the eye region, making the eye area less heavy and more radiant.
Soko All-in-one Lifting Cream –
The All In One Cream is an all-natural method of warding off the early manifestations of aging without resorting to the use of potentially damaging chemicals that may wreak havoc on your skin. This cream is effective in minimizing the appearance of wrinkles, fine lines, and age spots. The All-In-One Cream that we sell is an excellent product that, by its interaction with your skin, may make you appear younger and more beautiful.
They have partnered with the most renowned laboratories in the cosmetic skincare business to provide the purest and most effective skincare line. Before being awarded a Sokobeauty label, products pass stringent tests and undergo an intense qualification process. Their goods do not contain any harsh ingredients since they want to guarantee their quality and assure that they are safe to use. Extensive testing is performed on each component and product before they are released to the public.
For more details, visit https://sokosbeauty.com
Media Contact
Company Name: Sokos Beauty
Contact Person: Chantelle Miller
Email: Send Email
City: Fort Worth
State: Texas
Country: United States
Website: www.sokosbeauty.com