Profacgen Enhanced Its Protein Biotinylation Service Recently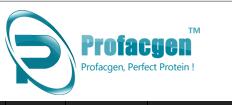 Profacgen, a state-of-the-art protein service provider located in Long Island, NY, USA, recently updated its protein biotinylation service for both academic and industrial customers. Custom biotinylation service can be performed in a variety of scales and biotinylation for any protein required can be performed.
Biotinylated proteins have won increasingly attention for its wide applications including ELISA assay, proteolysis test, immunoprecipitation assay, immunohistochemistry, cross-linking, flow cytometry, signal transduction experiments, receptor binding studies, and experimental tissue therapy and tissue engineering. During the past decades, Profacgen has developed multiple methods for in vitro biotinylation. Customers can choose the method that best serves their requirements.
Profacgen utilizes various methods for protein biotinylation including: Primary amine biotinylation, and Sulfhydryl biotinylation. Besides, Profacgen offers more protein biotinylation related services such as: Immobilization of biotinylated protein, Purification of biotinylated proteins, Biotinylated protein activity test.
"We are quite pleased about this enhancement about our protein biotinylation service. Up to now, we have successfully completed biotinylation of a variety proteins. Backed by our top-class technology and proficient technicians, we can assure both biotinylation efficiency and protein activity preservation," said Crystal, a representative from the marketing department of Profacgen.
To get more information about the updated protein biotinylation service in Profacgen, please visit https://www.profacgen.com/Protein-Biotinylation-Service.htm.
Media Contact
Company Name: Profacgen
Contact Person: Ellen Burns
Email: Send Email
Phone: 1-631-619-7922
Address:45-1 Ramsey Road
City: Shirley
State: New York
Country: United States
Website: www.profacgen.com/