Kids Yoga Stories Announces New Kids Yoga Book: Claire's Camping Adventure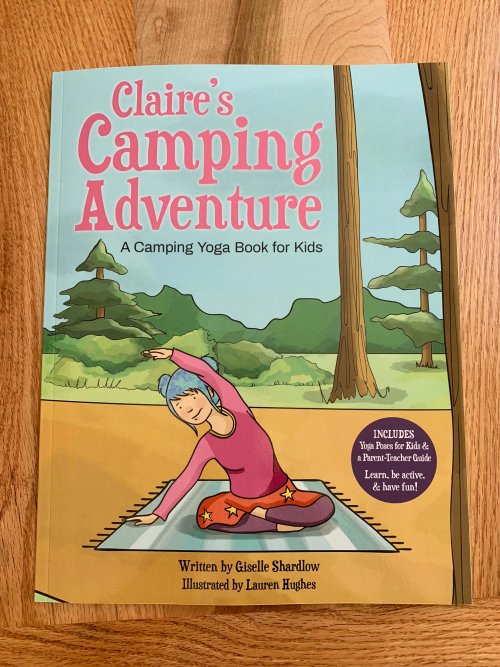 Kids Yoga Stories and author Giselle Shardlow are thrilled to announce the official release of their newest yoga book for kids, Claire's Camping Adventure.
Act out what you might see and do on a camping trip with kids yoga! Join Claire and her cousin as they go on a weekend camping adventure in New England. Spot a raccoon, roast marshmallows over a campfire, and rest in the tent. Discover a camping adventure, explore movement, and practice being both active and relaxed.
Kids Yoga Stories is founded on the principle of using alternative and enjoyable activities to inspire children to want to move and exercise. Yoga, an incredibly beneficial physical discipline and exercise, has countless benefits for kids like increased flexibility and strength, stress reduction, better sleep, and improved motor skills.
"I have always been passionate about working with children throughout my world travels, and common problems I've seen in every country are childhood obesity, illiteracy, and stress," said Giselle Shardlow, author of Kids Yoga Stories. "I wanted to find a fun way to help children move past these obstacles, and creating yoga stories designed for children was the perfect way to do it."
To purchase Claire's Camping Adventure, visit: https://shop.kidsyogastories.com/products/claire-s-camping-adventure-a-camping-yoga-book-for-kids
To sign up for the free weekly Kids Yoga Stories newsletter for yoga tips and kids yoga resources, visit: http://www.kidsyogastories.com/get-updates/
About Giselle Shardlow
Giselle Shardlow draws from her experiences as a teacher, traveler, mother, and yogi to write her yoga books for kids. The purpose of her yoga stories is to foster happy, healthy, and globally educated children.
Media Contact
Company Name: Kids Yoga Stories
Contact Person: Giselle Shardlow
Email: Send Email
Phone: 415-609-7583
City: Boston
State: MA
Country: United States
Website: http://www.kidsyogastories.com/