The Horror Channel YouTube Star is Also a Fashion Model and Beauty Influencer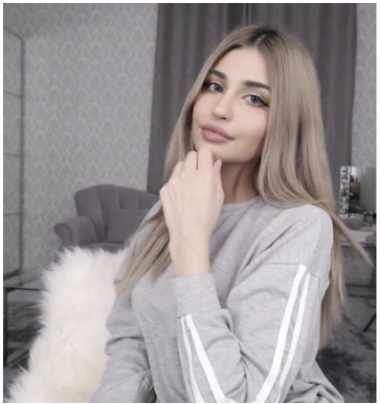 July 31, 2020 – The world of horror and suspense got a surprise twist one day when it discovered, Rana Hesham, popularly known as Ranoy on YouTube. She entertains her subscribers with horror tales on her channel. Rana has created a new path in this genre by showing that a pretty face and a beauty to behold could also scare the hell out of people by narrating horror stories sourced from around the world.
Rana's YouTube channel made her a star, and all of this was unexpected. She was merely practicing her acting skills in front of an audience eager to hear and see more. The result was a channel that went viral within days, earning over a million subscribers in less than two years. The stories ranged from haunted houses and dolls, witches and vampires and scary criminals that still arouse fear. The tales were also sourced from myths and legends from various cultures, amplifying the channel's traffic.
In the light of her fame and positive vibes, the release wire (RW) caught up with her about a sit-down interview. Luckily, she obliged. Here's a record of the ensuing chat.

RW: Making a living from telling horror stories is a unique occupation, does it feel like work to you or is it just passion?
Rana: Well, it is a passion that I'm proud to call work as well. It is not everyday people get the chance to work on something they love, and I'm grateful.
RW: Does it amuse you to see the facial reaction of your listeners and viewers?
Rana: I absolutely do. I love seeing the excitement on their face once I upload a video. Their reactions amuse me a-lot. That's how I'm fueled to do it over and over.

RW: What about your kid? Does he enjoy listening to the horror stories, or does he get the less scary ones?
Rana: Well, he is only 6 months old, but I'm sure with time he will love them as I love them.
RW: How do you juggle being a storyteller, a model and a mum?
Rana: Quite frankly, having everything under control is a chore. They each require a lot of commitment and time, but in the end, it's my baby first. He will always take the largest chunk of my time as soon as he needs it. However, I manage effectively with help from my husband and my family. They take care of my son, Saif when I'm filming, telling my stories or on campaigns.
RW: Do you have a preference to your type of modeling?
Rana: I love to model for Makeup and Dresses the most! It just represents me
RW: We imagine that you do loads of influencer work, how do you choose the brands you work with? Do you have to believe in their message to work with them?
Rana: I choose them based on certain perspectives. I consider if their products will be beneficial to my followers or not … and of course, it matters that I believe in their message. The later is actually my number one consideration before agreeing to work with a brand.
Ranoy promises more excitement around her brand and urges the release wore and the public to keep in touch.
Follow Ranoy's famous YouTube channel and Ranoy boutique – #1 Social Commerce platform in the Middle East.
For more information, please visit:

Instagram: https://www.instagram.com/ranoy___/
Twitter: https://twitter.com/Ranoy7_
Facebook: https://www.facebook.com/Ranoy712
Media Contact
Company Name: Goodway Group
Contact Person: Joss Mooney
Email: Send Email
Phone: 877-274-9881
Address:261 Old York Road, Suite 930
City: Jenkintown
State: PA
Country: United States
Website: https://www.instagram.com/ranoy___/